Landmark bill enhances public health and participation in our democracy, while empowering our most vulnerable communities facing hardships
Washington, D.C. – Mustafa Santiago Ali, Senior Vice President for Climate, Environmental Justice, & Community Revitalization at Hip Hop Caucus, released the statement below about The Environmental Justice Act of 2017, introduced yesterday by U.S. Senator Cory Booker (D-NJ) and U.S. Rep. Raul Ruiz, M.D. (D-CA). The bill protects against potential executive actions to rollback basic public health protections and public input in decision-making, requires federal agencies to address environmental justice through agency actions and permitting decisions, and strengthens legal protections against environmental injustice for communities of color, low-income communities, and indigenous communities. Buy Plavix online
"We applaud Senator Booker and Congressman Ruiz for introducing the Environmental Justice Act of 2017 and call for its passage. This is a vital piece of legislation introduced at a time when our most vulnerable communities are under extreme hardships due to the reckless decisions of the current Administration, impacts we are seeing right now from climate change, ongoing disproportionate impacts from air and water pollution, and improper use and disposal of toxic chemicals by industry."
"The common sense proposals outlined in this bill come from over 25 years of stakeholder engagement and bipartisan input. The bill provides basic protections, legal resources, and tools to empower local communities so that they can take their communities from surviving to thriving."
"By strengthening our most vulnerable communities, we strengthen America."
More information about the bill can be found here.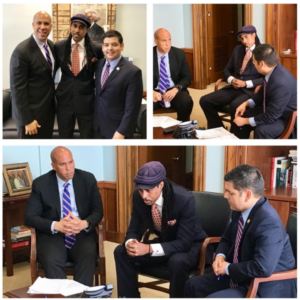 Mustafa Santiago Ali, SVP at Hip Hop Caucus, announcing the bill with Senator Booker and Rep Ruiz – October 24, 2017
###
About Hip Hop Caucus: Formed in 2004, Hip Hop Caucus (HHC) is a non-profit, non-partisan organization that connects the Hip Hop community to the civic process to build power and create positive change. Through a collaborative leadership network and support of community-driven solutions, HHC focuses on addressing core issues impacting underserved and vulnerable communities Buy Tadalafil online. HHC hopes to establish the culture and practice of voting as part of a desired civic lifestyle, as well as empower and train leaders and volunteers from our communities to be strategic leaders, messengers, and spokespeople for issues critical to equality, justice, and opportunity. Buy Cialis BlackLearn more at HipHopCaucus.org. Follow HHC online @HipHopCaucus on all social media platforms.
About Mustafa Santiago Ali: Mustafa Santiago Ali joined Hip Hop Caucus after working 24 years at the U.S. Environmental Protection Agency (EPA), where he most recently served as Senior Advisor for Environmental Justice and Community Revitalization. Mr. Ali specializes in social and environmental justice issues and is focused on a utilizing a holistic approach to revitalizing vulnerable communities. As a renowned speaker, policy maker, community liaison, trainer, and facilitator, he has worked with over 500 domestic and international communities to improve people's lives by addressing environmental, health, and economic justice issues. buy Kamagra online