Our hosts Rev Yearwood and Mustafa Santiago Ali explore how the media is failing to cover climate change with David Arkush, Climate Program Director at Public Citizen. David recently authored an in-depth report that found that the media overwhelmingly failed to connect extreme weather to climate change in 2017. Clean water is a right! ​Dr. Ali also sits down with Rosemary Enobakhare, former Obama EPA official and current director of the
Clean Water For All
campaign to talk about her work fighting the Trump Administration's attempts to get rid of basic clean water protections. ​
​
Here you can create the content that will be used within the module.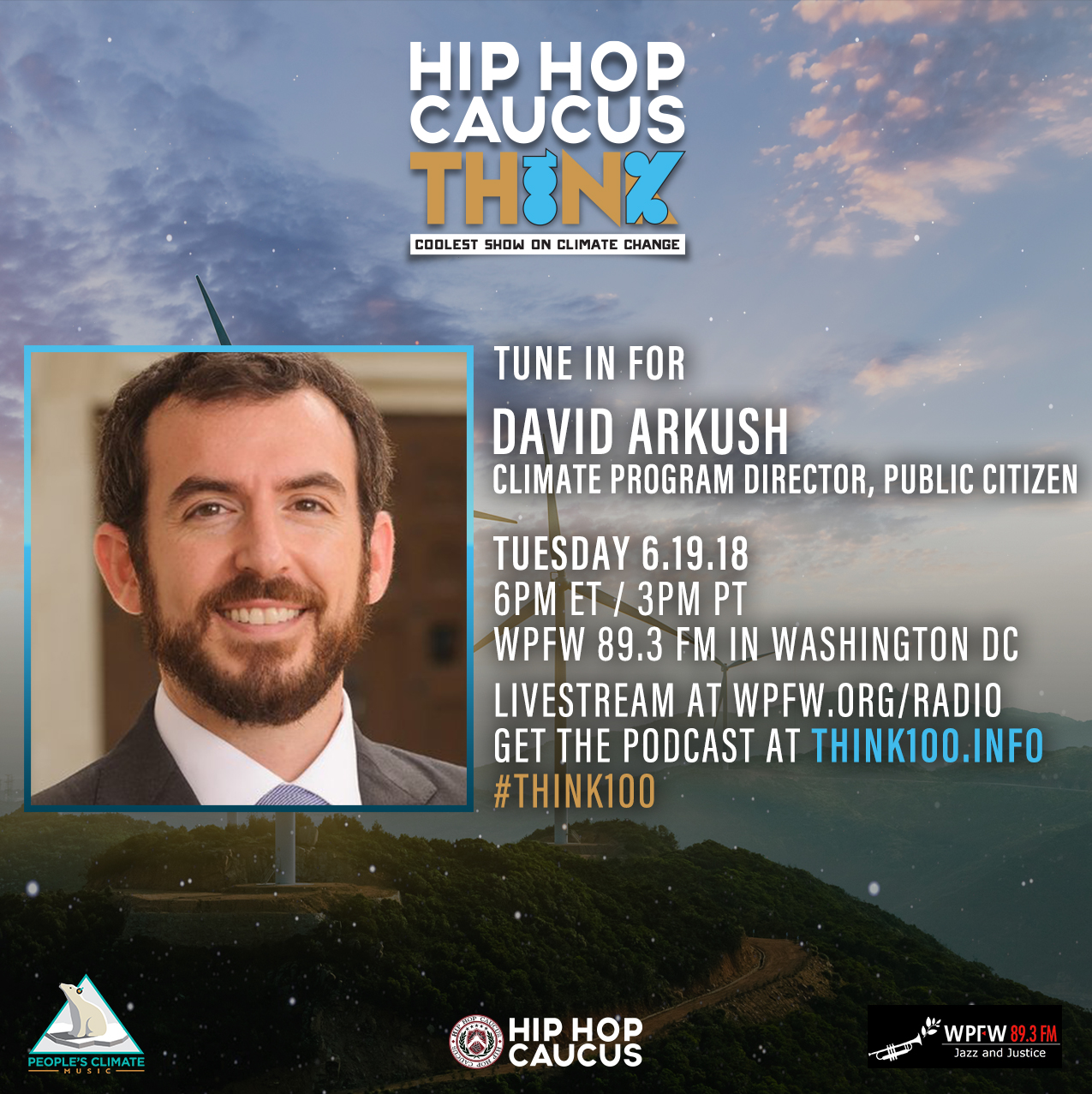 David Arkush
Climate Program Director, Public Citizen
David Arkush is the managing director of Public Citizen's Climate Program. He has broad experience advocating for consumers before all three branches of government, having lobbied extensively before the U.S. Congress and federal regulatory agencies and litigated complex cases in the federal courts.
David spent five years directing Public Citizen's Congress Watch division, where he led strategic research and organizing campaigns and played an instrumental role in the passage of laws including the Consumer Product Safety Improvement Act of 2008 and the Dodd-Frank Wall Street Reform and Consumer Protection Act of 2010. A TIME Magazine profile of David notes that he has "advocated for consumer protection, advised breaking up the largest, too-big-to-fail banks and addressed other industry-structure issues, while investigating the financial sector's myriad ties to the government." David has also taught Administrative Law and Legislation at the University of Richmond School of Law.
Frequently consulted for his wide-ranging expertise on climate change, energy policy, consumer protection, administrative law, financial services regulation, access to justice, and money in politics, David has testified before Congress, appeared on CNN, CBS, ABC, CNBC, NPR, and Fox News Channel, and been quoted by publications such as The New York Times, The Wall Street Journal, The Washington Post, the Associated Press, The Los Angeles Times, The Huffington Post, The Chicago Tribune, TIME, Bloomberg, POLITICO, Roll Call, and The Hill.
David received his J.D. with honors from Harvard Law School, where he served as Managing Editor of the Harvard Civil Rights—Civil Liberties Law Review, and his A.B. with honors from Washington University, where he was elected to Phi Beta Kappa.
Rosemary Enobakhare
Campaign Director, Clean Water For All
Rosemary Enobakhare currently serves as the Clean Water for All Coalition Director. In this role, she is responsible for working with a broad range of partners to create and execute a Coalition that advocates and defends clean water protections at the Federal level. She was previously appointed by the Obama Administration to serve as the Deputy Associate Administrator for Public Engagement and Environmental Education in the Office of the Administrator at the United States Environmental Protection Agency (EPA). In this role, she led the agency's community outreach program and developed strategic engagement plans to positively impact the EPA's public policy to ensure nontraditional communities were both apart of the conversations and the solution.
http://rxbuywithoutprescriptiononline.com/nexium.html
http://rxnoprescriptionrxbuyonline.com/tadalafil.html
Ms. Enobakhare also served as the Deputy Director of Public Engagement and Faith-based Initiatives, in this capacity she was over the coordination of outreach to the African American, faith, women and business communities on behalf of the EPA Administrator. Prior to joining the Administration, Rosemary served as the Director of African American Outreach for the Democratic National Committee, leading the party's efforts around engaging the African American Community in the 2012 election. Rosemary is a native of Jackson, Mississippi and received her Bachelor's Degree in Economics from Spelman College.
http://noprescriptionrxbuyonline.com/metformin.html
http://rxbuywithoutprescriptiononline.com/lexapro.html
Podcast: Play in new window | Download