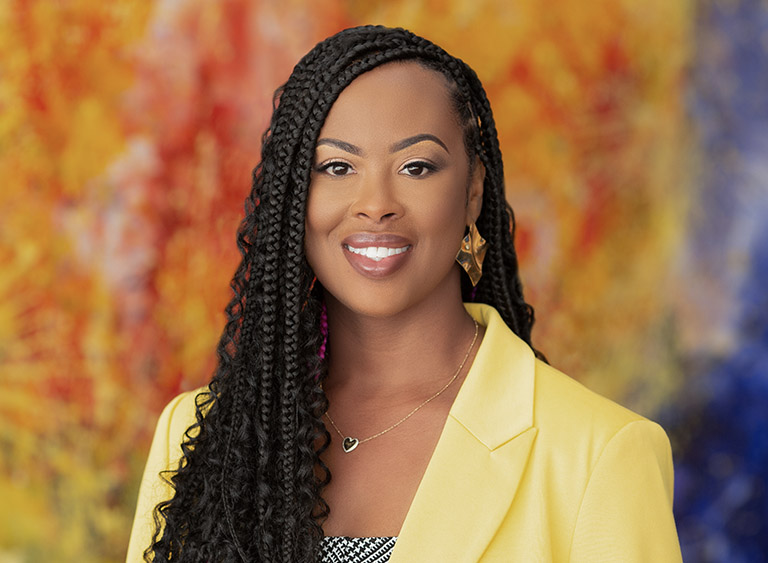 Brittany Bell Surratt is the senior director of storytelling and communications for Hip Hop Caucus. A dedicated marketing, public relations and crisis communications professional with more than 15 years of experience, Brittany takes pride in creating strategic integrated communications plans to tell stories that position brands and organizations favorably with stakeholders across agency, corporate, non-profit and academic environments.
Most recently, Brittany was the director of public relations for TV One and CLEO TV where she developed communications strategies to promote original films, network shows and talent across linear, streaming and digital channels. Prior to TV One, Brittany was a director at Spitfire Strategies, a strategic communications firm with a focus on social impact. At Spitfire she held a portfolio of philanthropic and social justice-related work that included voter disenfranchisement, election protection, criminal justice reform, education equity, reproductive justice and Black maternal health.
Before Spitfire, Brittany was a communications manager for a national education nonprofit that works to close opportunity gaps in education, through research, advocacy and policy. In this role, she led strategic communications outreach for the P-12 team, drafting executive collateral, including speeches and talking points for senior leadership, and partnered with internal and external teams to manage integrated communications projects.
Previously, she served in various communications capacities at Howard University. As the assistant director of athletic media relations, she developed and implemented the department's integrated marketing plan to promote the athletic and academic achievements of its Division I student-athletes, coaches, faculty and staff. As a media relations specialist in the Office of University Communications and the Office of External Affairs, she supported public relations, social media, marketing, crisis communications and issue management for the university at large, Howard University Hospital and local PBS affiliate, WHUT-TV.
Brittany has experience in federal government consulting, working on a multi-year contract at a service-disabled veteran-owned firm, as a communications and outreach analyst for The Department of Homeland Security and Federal Emergency management Agency. There, her work centered on traveling throughout Canada, Maine and the Midwestern United States to produce videos supporting emergency communications and public information in preparation for natural disasters.
She began her career in healthcare marketing and communications at The George Washington University Medical Faculty Associates (GW MFA) where she created strategies to market health services and increase patient enrollment through various marketing tools. She was part of an innovative team that developed award-winning promotional campaigns, resulting in improved patient retention rates and satisfaction of services rendered. Brittany oversaw project management of print production, planned special events and wrote copy for clinical specialties. Additionally, she was involved in successfully transitioning the company to a full electronic medical records system.
A passionate advocate for young people of color and a natural storyteller, Brittany has devoted her career to advocacy-centered organizations with missions focused on securing equal rights for marginalized communities. In her spare time, she serves as a mentor to college-aged women and volunteers with Starting with Today, a non-profit organization with a mission of creating, sustaining, and enhancing the professional, mental, and financial wellness of underserved adults by providing customized, culturally relevant training and local resources. Brittany is a member of Alpha Kappa Alpha Sorority, Inc., ColorComm, NABJ/WABJ, Public Relations Society of America (PRSA), Washington Women in Public Relations (WWPR) and Women In Sports & Entertainment (WISE).
A native of Natchez, MS, Brittany graduated with a Bachelor of Arts degree in Broadcast Journalism with a minor in Political Science from Howard University.